Cheeseburger Condiments!
Here is everything that I couldn't fit into the other sections, I'll be adding to them as people send me pics and/or memories.
---
The Evolution of Kero-chan
Before the con, while I was at Gina's place, we used Kero-chan to record our progress. Everytime we finished a costume piece, or made some other significant progress, we added something to him. So witness Kero-chan evolution!
---
Trip to Disneyland
Here are pictures from our Disneyland trip. While we didn't have everybody this year (two members of AMC had to leave on Sunday), we did run into Phoenix Seed, who fed us yummy gummy good for our tummy! Kelly also finally got her CCCWS (Chocolate Chocolate Cake with Sprinkles), but due to "unforseen circumstances", she couldn't finish it. Maybe next year!
---
Fanart!
Apparently I made such an impact at AX, I had fanart drawn of me! Contribute to the gallery, please!

From Kix (Danke Danke!) - Her first encounter with Genri the Pink Pirate: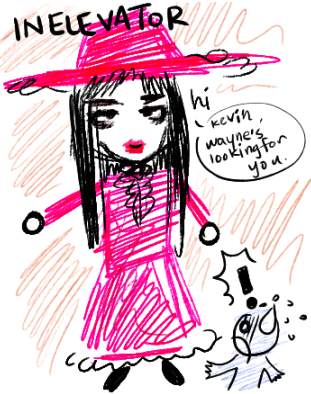 ---
Random Convention Events
1. Being asked to take a picture as Serge showing the middle finger.
2. Asking Umigoddess to do a Hawaiian dance because "her skirt looks like a Hawaiian hula skirt"
3. Singing the Cheeseburger song in Japanese
4. Attempting twin-cest at the KOF photo shoot - but failing.
5. Going to Arcade Infinity, forgetting about the 2 for 1 boba tea sale, and forcing himself to drink 3 boba's consecutively on the ride back (1 strawberry, 2 mango).
6. Hugging a fish.
7. Wrestling with said fish.
8. Sleeping with said fish.
9. Finding a japanese sword in the bathroom while washing his hands.
10. Seeing purple, smelling it, then floating.
11. Scaring the CRAP out of friends when walking around as the Pink Pirate and speaking.
Care to add more? E-mail me!