After the masquerade, everybody seemed to be riding on the euphoria of victory. Many pictures were taken, and Genjitsu tried to round up the COSP ML and ACP people for group photos. Things were too hectic though, and in the end Genjitsu just took more random pictures. He managed to get a shot of the Trigun cosplayers, with their incredible props! (He promised himself he would analyze them later) He met up with Azumi and Albert, and had a late night dinner, where he taunted Azumi with out-of-reach sugar packets. He checked out the dance briefly, and stopped by the second Megatokyo Panel to meet up with Dom. But the masquerade seemed to suck all the energy out of Genjitsu. That, and the hotel seemed unusually quiet, so at around 3 Genjitsu fell asleep with a smile on his face.
Closing Thoughts

In short, Anime Central 2002 was a smashing success! I absolutely loved the hotel this year, very spacious! Staff seemed to have everything under control, and no major incidents happened. I have to admit, it's refreshing to see that conventions are still as fun as ever. After SDCC, I basically disappeared from the convention/cosplay world, as I had to take care of school stuff. And as with trying to get back into anything after an extended absence, I wasn't sure if I could get back into the "groove" of conventions.
But my fears were unfounded; this was helped by the friendliness of the congoers. Many of them were open to questions about their costumes, and in general just exhibited an enthusiasm for cosplay that I sorely missed. It was also interesting attending this con from a non-cosplayer perspective. With the exception of Kamui, all my costumes were at home, and I had resolved to stay very low profile at this convention. I certainly took a lot more pictures than usual, but at the same time, I felt like I was missing out on a part of why I go to cons in the first place.
Anime Central has reawokened the cosplayer in me - that's right, I'm coming out of retirement! (Yes I know, big surprise there) It was a pleasure making and performing the skit this year, but I couldn't have done it without my club's help. Whether it was Helena sewing the cloaks well into 4 am, Kimberly and Jon painting the props, Rukmini and Aza volunteering to be the Fran and Pocky boxes, or even Caleb just biting the bellpaper, the skit wouldn't have happened if it weren't for them. With my graduation in two weeks, I am happy to have finished possibly my last ACen with a bang.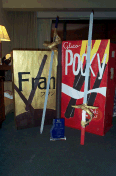 Until next time!