Newcomers...
AMC/NCC/GAP Presents...
Episode 5.5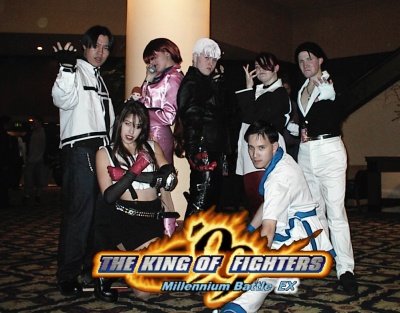 Announcing KOF99 EX, an addition to the wonderful KOF series! More exciting battles! Made to tide fans over until the long awaited KOF 2K, KOF99 EX is just the thing for fans thirsting for action! Utilizing the CookieCastStation2, KOF99 EX delivers eye-popping graphics with astouding realism, while retaining the wonderful KOF gameplay we all know and love! Relive Shin Kyo's rage as he searches to find who cloned him, and why they were inconsiderate enough not to give them styling new threads as well! Or Iori's suffering of being an extra character with no new changes!
New Features:
| | |
| --- | --- |
| NEW STRIKERS! - Exclusive to KOF99 EX are additional characters to use as Strikers! Members from past KOF games, as well as other popular titles, join the battle! Witness Tifa's limit break assistance, or be awed by Shermie's waltz! How many new characters total? Who knows, but play and try to unlock them all! | |
| | |
| --- | --- |
| | RPG MODE!!! - Yes, you fans demanded it, and now KOF is both a fighting game AND RPG! Witness Iori and Shin Kyo as they travel through Japan and the world, in search of daring adventures and answers! Will they be able to team up for the common cause, or will the flames of rivalry burn through the bonds of comradeship?! Additional characters will join their quest, and only you can make sure they survive! |
| | |
| --- | --- |
| DATING SIM! - The KOF people have feelings too, and now is your chance to witness great drama and romance! Pair up various KOF characters together on a date, and see if sparks fly! (Whether of love or chi...) Will Kensou finally be able to reveal his feelings for Athena? Will she accept them? It's up to you, and as you can see on the right, the combinations are endless! | |
Reviews
"The best KOF title yet!" - Gameholics
"BRILLIANT! With KOF99 EX, this may prove to be gameplay overload for fans!" - Videogamemaster.com
"You'd think with so many sequels the KOF series would go stale, but KOF99 EX proves there's still plenty of life to it." - Fanitsu
"My pants fell when I first saw the game, it's THAT good!" - Mysterious bun-chewing boy
"Millions of fans will play KOF99 EX, if not for the gameplay depth, or the visual splendor, then to unlock Shermie!" - Shermie Shrine Priest
More In-Game Shots
Reserve Your Copy Today!!!