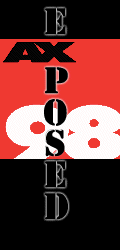 Hello everybody, and welcome to my humble Anime Expo '98 page! I attended AX98 from July 3-5 with my best friend. It was a really special event for us, considering that we flew all the way from Florida to attend it! (Graduation gift from the parents) Join me, Henry "Genjitsu" Lee, the dazed and confused AX attendee on his mission to find the one perfect cosplayer!
About this Page
I was looking at my newly developed pictures from AX, I realized the number 2 rule of anime conventions: If you want good quality pictures, DON'T depend on Kodak funsaver cameras! Don't get me wrong, they're just perfect for those nice vacation shots of your grandpa at the beach, sunbathing naked, but in a hotel convention center with poor lighting, not to mention hundreds of anime fans running around like chickens with their heads cut off, a decent camera is necessary (zoom lens preferable). Of course I realize the minute I say this I will get hundreds of e-mails from fellow AX attendees, all saying how they got perfect and wonderful shots with their Kodak funsavers. So I'll just blame the quality of the pictures on my best friend Luis, since he took most of them. So not all the shots are perfect; you will see glare, shots too far away, even the dreaded red-eye (although with some of the cosplayers I don't think it was the camera's fault).
So why even bother making this page? Although this page is meant as a reference for my friends (some of them don't believe me crazy enough to fly across the nation just to attend an anime convention), certain parties (ahem, #fansubs) have demanded pictures of cosplayers. So, I've decided to make my page unique. If you want better and more pictures, check out the links section. I've made a few unique additions however. For instance, not everyone is an anime freak who's seen every domestic and import series subbed, dubbed, and on every format imaginable. So some costumes may not be recognizable. Not everyone recognized my costume, Sanosuke, from Rurouni Kenshin. So, I've included pictures of the actual anime characters for reference. Now you can truly judge whether that crossdressing Sailor Scout is worthy of the title Sailor Skank!
Please note:The text added to the pictures are for entertainment purposes only. I have tried my best not to offend anyone, but I have quickly learned that my sense of humor does not in fact have a universal appeal (God forbid!). If any of the people in these pictures should find my "commentary" offensive, rude, or insulting, please inform me and I will do my best to resolve the matter. I have included a section without the commentaries, for those that are just interested in drooling over the cosplayers.
If you just find the jokes just plain bad, tough! I had a lot of fun making these, and that's what matters! Besides, I'm sure someone will get a giggle or two out of these...
On to the pictures already!