Epilogue
It goes without saying, Anime Expo 2000 was probably the biggest convention for Genjitsu yet. This year was his most productive in terms of costumes, and he got to hang out with his friends the week before too! While he made the mistake of planning too many things to do, which resulted in mad frenzies, and not as many baked goods as he would've liked, in the end, it was all good fun. Genjitsu sincerely apologizes to all the people he didn't get to hang around with more (#fansubs and #fushigiyuugi, you can lynch him later). Genjitsu got to meet new friends too, and of course, the chance to play the wonderful Dance Dance Revolution 3rd Mix. Having packed and stored his cosplay bag, AX 2000 marks the end of another year of conventions for Genjitsu. Who knows what next year will bring? What outfits will Genjitsu wear? Just wait and see!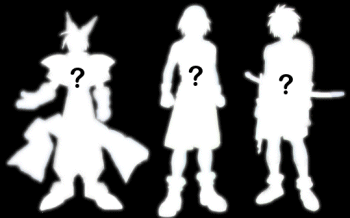 The following are pictures of Genjitsu and his friends invading Disneyland on Tuesday. Genjitsu would like to close his page by giving various thanks:
AMC - Thank you so much for teaching me the sewing machine! AAAAH, now I'm going to eventually have to get one! I only wished I got to spend more time with y'all the week before AX, but who knows, maybe I'll make a random visit? Tiff - thanks so much for putting up with my confused looks when making the wings! And get mack to buy that damn Disneyland snake for ya already! Ashy - you're such a darling to help Gina with the Kamui jacket! What would I ever do without you! Oh, and consider me the tech crew of AMC now hehe...Allie - Duba duba! Dub! Gak! (Translation - Try not to wear the DDR pads out TOO soon! And more Houshin! Love ya!) All of you - ......cookie? Cake! Cake!
Gina - THANK YOU THANK YOU THANK YOU! You let me crash at your place, eat your peanut butter cookies, make my costumes, talk to your dog...what can I say? You're the best! It was hella cool, and all the help you gave me made my costumes look hella good! There were some hella funny moments during those cosplay crunches at 3 in the morning ne? And oh yea, thanks for making me say hella. I'm a Cali person now! Hella!
Mack - Dude, I think we bonded or somethin that week - with hot glue of course! We had some great times that week, and we kicked ass at AX! Long live Kamui and Fuuma! Now, if only you could learn to cut straight straps for Krizald...and remember: "It's a green light so you can go."
Nick - You weren't kidding when you said your cactuar outfit was big! I dub thee mascot boy now!!! I'll never forget the wet crotch comment at Disneyland...
Kelly - I think we won't forget camping out in the line on Sunday...oh wait, it "WAS NOT A LINE UNTIL 6 AM".
Steve - C'mon man, let's have the "Y" costume by Fanime! Glo-wire!
Gina's Dog - I will beat you next time, I swear!
Until Next Year!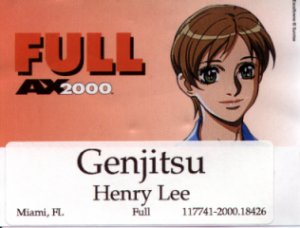 ---